For the last 2 and a half years, I have been working at TRIL. Last week I handed in my notice to join a small but highly ambitious Dublin based start-up.  Leaving TRIL was a difficult decision, it was my first full-time employment out of University, and it has been an amazing opportunity to work with so many talented people.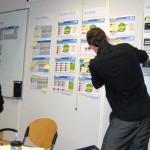 My blog has been very quiet for two years as so much of my work has been classed as IP sensitive.  At TRIL I had the chance to work across all research strands, working with top researchers, professors and practitioners.
My role as an interaction designer was to bridge research from clinic to home.  I would help take research projects from the drawing board and transform them into something that may work in the house.  As TRIL designs for older adults, accessibility and learnability are very important. Often it would be the first time users may have interacted with complex interfaces.
Thinking about the product holisiticy was key to many of the successful TRIL deployments.  A balance was always required to both get clinical requirements and user requirements.  Some projects would require stricter compliance to technology, and others would focus on a social UX.  I got the chance to work with anthropologists and social scientists.  This was great as they compared observations to society and framing their observations within a context.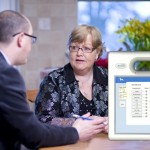 At TRIL I had the chance to work on a Social communication aid, 2 X Exercise Systems, Clinical Tablet data collection tools, Multisensory integration training, a refined data dashboard, remote usability tools,  embedded sensors and our in house visual programming environment.
I worked with some fantastic people and will miss the different intellectual power of TRIL and Intel.  Including the many who have already parted from TRIL, and have gone onto some great things.
I shall keep you posted as I make my transition to my new calling. To call it a day job, may be unfair to the night.
BONUS: You can have my old job! Yes, there is a need for Interaction Designers in Dublin.  Luckily I helped create the IxDA Dublin community two years ago, and this would be the perfect position to line someone up for Interaction 2012.   If you are in Dublin, come along to the IxDA Dublin Crimbo party for a full update on all TRIL activity.
Ben Arent
Product Generalist
Currently in SF