Being an Interaction Designer at the TRIL Centre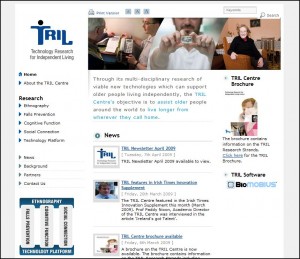 Its been almost 10 months at TRIL so I decided to post some updates here.  Unfortunately I can't really talk about TRIL work, which may make this post a bit dry!
During my time I have learnt an awful lot, and it was a running start from graduating.  TRIL is a really interesting project and I get to work with a huge range of people from Neuroscientists to Signal Processing Engineers.
Most of my time in has been spent on project for the social connection strand, Building Bridges.
(ii) Building Bridges to Health, Learning and Fun
The aim of this program of focus groups, ethnographic interviews and in-home technology trials is to explore new ways to maintain, stimulate and increase the social activities and interactions of older people through the use of both existing and new technologies. This project will address the following broad research questions:
How can the social connectivity of community dwelling older people from within their own homes be improved?
What would a home-based technology that strengthens existing social networks and allows the creation of new relationships look like?
How acceptable might this be to different groups of older people?
What might the social organisation of such a network look like? (for example, virtual befriending and peer mentoring schemes, friendly caller services, interest-based groups)?
How could the strand effectively measure and evaluate the success of a social connection technology?
When I joined I got a prototype AS3 application hand crafted my a contractor at Intel. Learning an application of this size took some time, but I'm finally starting to feel comfortable with it.  I have loads on interesting insights and lessons which I will try to process with our IP committee so I can share them with the Flash Community.
Working in an Industry / Academic project is a lot of fun as an Interaction Designer as every day is different and I get to . . . 
Help work through ethnographic research.
Develop Scenarios.
Create Wire Frame —> Photoshop Comps —> Flash Demos.
Create Content for devices.
Run usage analysis programs.
That just a short list of the stuff I can talk about.  Getting posts through the IP committee will properly mean I will start writing better content for the site.
Ben Arent
Product Generalist
Currently in SF